Contribution in Chile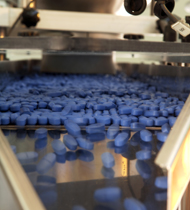 Infectology, Ophthalmology, Immunology and Oncology, Gastroenterology, Bronchopulmonar, Cardiology, Rheumatology, Psychiatry.
Infectology
First Sulfas and first Penicillins
First semisynthetic Penicillins (Ampicillin, Cloxacillin, Amoxicillin, etc)
First antiviral agent for systemic use (Acyclovir)
First medicine world-wide approved for the etiological treatment of AIDS (Zidovudine)
Ophthalmology
Introduction of the first ophthalmic corticoid
Introduction of the first ophthalmic anti-viral
Introduction of ophthalmic Adrenergic-B antagonist
Immunology and Oncology
First immunodepressant useful in organs transplant.
Gastroenterology
Introduction of the H2 Antagonists (Cimetidine, Ranitidine, Famotidine)
Introduction of the first prokinetics (Metoclopramide, Domperidone, Cisapride)
First proton pump inhibitor (Omeprazole)
Bronchopulmonar
First sustained release theophylline made in Chile
Cardiology
Introduction and development in Chile of ACE Inhibitors
Introduction of the first statin for cholesterol control
Introduction of Angiotensin II blocking agents
Rheumatology
Introduction of first Uric acid synthesis inhibitor (Allopurinol).
Introduction of Naproxen in Chile (Gold-standard in the NSAID's therapy).
Psychiatry
Wide range of Benzodiazepines (from Chlordiazepoxide to Clonazepam)
Introduction of the first non-benzodiazepinic ansyolitic (Buspirone)
First specific serotoninergic antidepressant (Fluoxetine).
Innovative non-benzodiazepine hypnotic agent (Zolpidem).